MUTANT MULTI 60 TABLETS
วิตามินรวม เป็นอาหารเสริมที่สำคัญอันดับ 1 ของคนออกกำลังกาย
MUTANT MULTI is a complete multivitamin formulated with an arsenal of over 75 ingredients constructed for the largest bodybuilders and strongest powerlifters that walk the earth.* Research has proven that hard training and prolonged dieting may cause athletes to lose critical vitamins and minerals.* MUTANT MULTI is designed to supplement your diet with high-potency vitamins, minerals, electrolytes, phytonutrients, botanical extracts, antioxidants, powerful herbs, digestive enzymes, greens and performance optimizers. Set your nutritional foundation in place with an easy-to-use, once-a-day formula made for performance.*

DETAILS
100% or more of your daily requirements for vitamins A, C, D, E, B1, B2, B3, B6, B12, zinc, magnesium, selenium, chromium and more!

SPECIFICALLY FORMULATED FOR STRENGTH ATHLETES | Complete nutrition insurance formula, harnessing 75+ ingredients into multiple systems, specifically formulated for the harsh realities of heavy lifting.

75+ INGREDIENTS | High potency vitamins and minerals including electrolytes, phytonutrients, botanical extracts, antioxidants, enzymes, berries and greens, lipotropic factors ALL delivered in easy to swallow tablets.

MULTIPLE NUTRITIONAL SYSTEMS | The Mutant Multi is the tablet with everything lifters, athletes, and Mutants alike. It includes a broad spectrum with multiple nutritional systems to help the entire body.




EASY TO SWALLOW TABLET | The Mutant Multi is designed for all adults. That's why we made these multi vitamin tablets easy to swallow.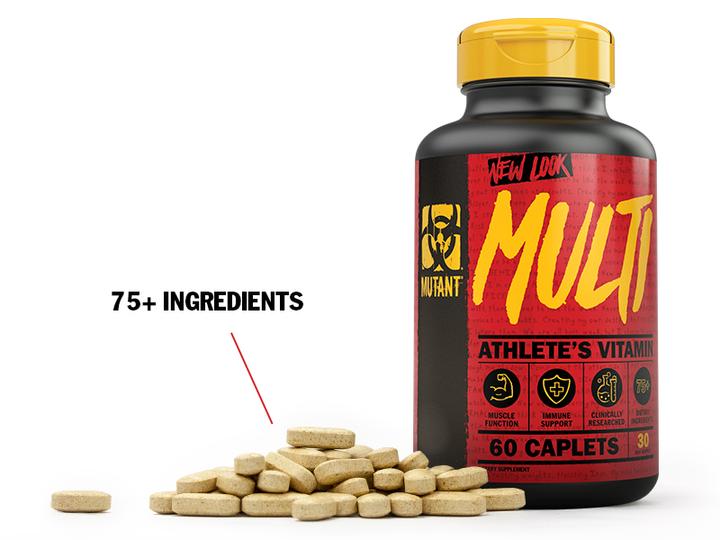 A DAY | Take 2 tablets with a good meal each day and you'll by on your way to a healthier day and a better workout.