Mutant BCAA THERMO 30 Serving
6 GRAMS
BCAA Thermo has 6g of fully instantized vegan fermented BCAAs to help with your recovery which can support muscle growth over time.
8 ADDED ELECTROLYTES
Staying hydrated is an essential part of maximizing performance. That's why we made sure to add 8 electrolytes to help keep you hydrated!
THERMOGENIC POWER EVERY WORKOUT!
BCAA Thermo is fortified with a proven and patented thermogenic accelerator to make sure it works as hard as you do.
PREFERRED 2:1:1 RATIO
BCAA Thermo is in the preferred 2:1:1 ratio, which is instantized for superior solubility.
GREAT TASTE
Your workout powders shouldn't be difficult to drink. That's why we make sure our BCAA Thermo powder tastes great!


Advantages
Better than BCAAs alone, BCAA Thermo is the best way to energize your day or next workout while still getting in the BCAAs necessary for optimal muscle recovery and effectiveness. Included in the preferred 2:1:1 ratio, and instantized for superior solubility, now you can build and burn with the energizing, thermogenic power of new BCAA Thermo. Fortified with a proven and patented thermogenic accelerator, BCAA Thermo works as hard as you do.
Metabolic Amino Fuel
METABOLIC AMINO FUEL | 6 grams of 100% pure BCAAs; 9 electrolytes complete with 72 trace elements from Aquamin; a super-charged thermogenic kick - all combined in some of the VERY BEST thirst-quenching flavours, you will ever enjoy! Now you CAN build and burn at the same time!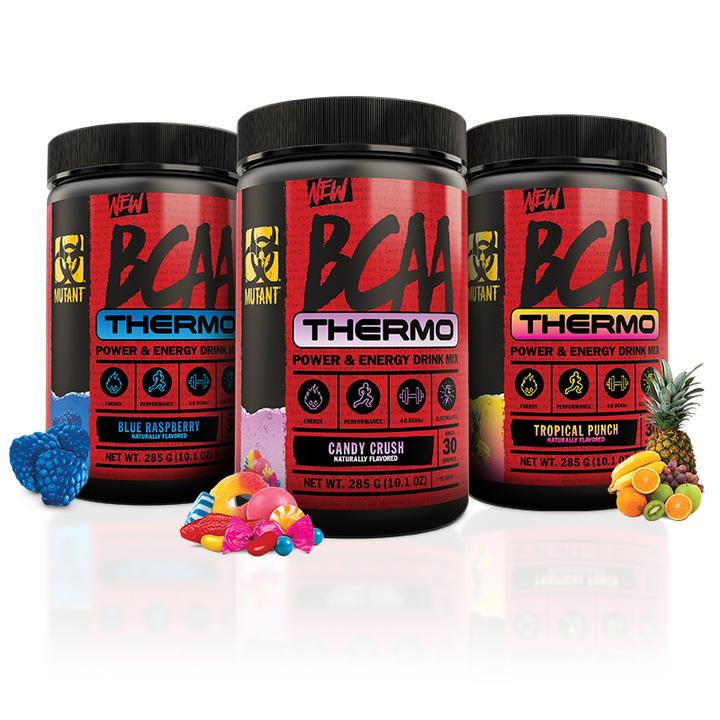 For occasional use only as a food supplement by healthy adults 18 or older. Not suitable for children or pregnant or nursing women, and persons sensitive to caffeine. High caffeine content. Consult a qualified physician before taking this or any food supplement. Do not exceed recommended daily dose. Do not use in place of a varied diet or as a sole nutrition source – consume with a nutritious diet and an appropriate training program. Packed by weight, not by volume. Settling of product occurs after filling. Store in a cool, dry, dark place. Do not refrigerate. Contains a desiccant packet for freshness – do not consume. Do not use if seal is broken or missing. STORE OUT OF REACH OF CHILDREN.

Direction For Use
Mix 1 serving with 250-500 ml (~8-16 fl oz) of cold water before training. For maximum results drink 2 servings daily.