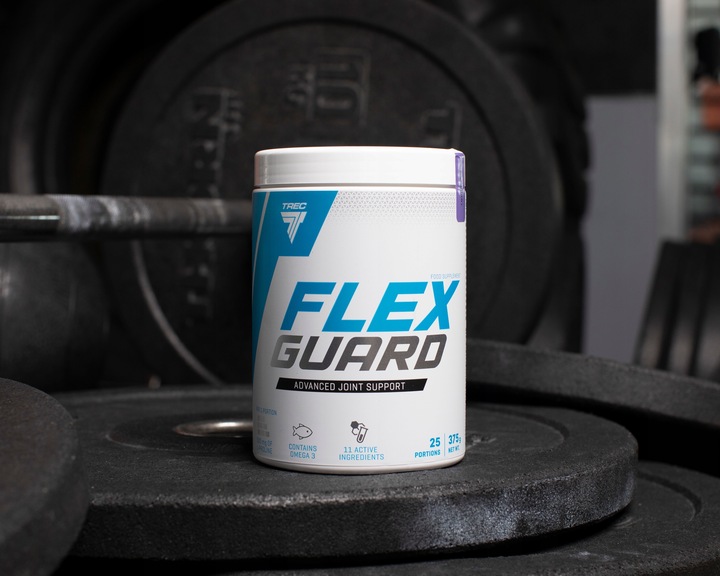 TREC FLEX GUARD COMPLEX JOINTS SUPPORT
STRONG MATRIX OF NUTRIOUS INGREDIENTS FOR JOINTS

7000 MG OF COLAGEN HYDROLYSATE IN ONE SERVING

EFFECTIVE KNEE PAIN RELIEF

SUPPLIES COLLAGEN HYDROLYSATE, MSM, GLUCOSAMINE

PROVIDES CA, MG AND ZN – MINERALS WHICH CONTRIBUTE TO THE MAINTENANCE OF NORMAL BONES
DESCRIPTION

FLEX GUARD is a complex dietary supplement that supplies collagen hydrolysate, MSM, glucosamine, L-proline, Omega-3, chondroitin and hyaluronic acid. FLEX GUARD also contains vitamin C that supports correct production of collagen to ensure proper function of the cartilage and bones. The product also provides calcium, magnesium and zinc – minerals that are essential to keep your bones healthy. FLEX GUARD is recommended to athletes following strenuous training regime who are often at risk of overload and injuries.

Recommended daily portion is 15 g.
USAGE

Dissolve one portion of the product – 15 g (2,5 scoops) in 200 ml of water. Take 1 serving daily, preferably 30 min. before a meal.