PVL 100% Pure BCAA
STRENGTH & ENDURANCE
PVL 100% Pure BCAAs provide you with high quality Branched Chain Amino Acids to help provide muscle building support and also protect against muscle being used as fuel. L-Leucine, L-Valine and L-Isoleucine, are directly linked to muscle protein synthesis. Taking BCAAs before, during, and after your training helps prevent muscle loss and improves muscle recovery. Tested 100% to USP pharmaceutical standards for safety, purity and efficacy, our BCAAs are vegetarian sourced of the highest quality. They are micronized for faster and better absorption.
PROTEIN SYNTHESIS | Enhance your muscle mass with these 100% Pure BCAAs (branched-chain amino acids) to help build and repair muscle, boost protein synthesis and delay fatigue.

IMPROVE YOUR PERFORMANCE | Taken pre-workout or during intense exercise, BCAAs have been shown to improve performance, making it easier for you to go faster, be stronger and last longer.

PLANT BASED, VEGAN SOURCED | Our BCAAs are sourced entirely from fermented vegetable sources—know what's going into your body.

MUSCLE RECOVERY | Feel stronger, faster—and without so much muscle pain. BCAAs aid recovery time so you will get the most out of every next workout too

MICRONIZED | Our BCAAs are micronized into a finer particle size for increased solubility to help maximize absorption.




(Adults) Take 1 scoop mixed with 250 mL (9 fl oz) of water, juice or your favourite drink.

Tip:To decrease sweetness, use more water – to make sweeter, use less water.

Cautions: Consult a health care practitioner prior to use if you are pregnant or breastfeeding, if you are following a low protein diet, or if you have any health concerns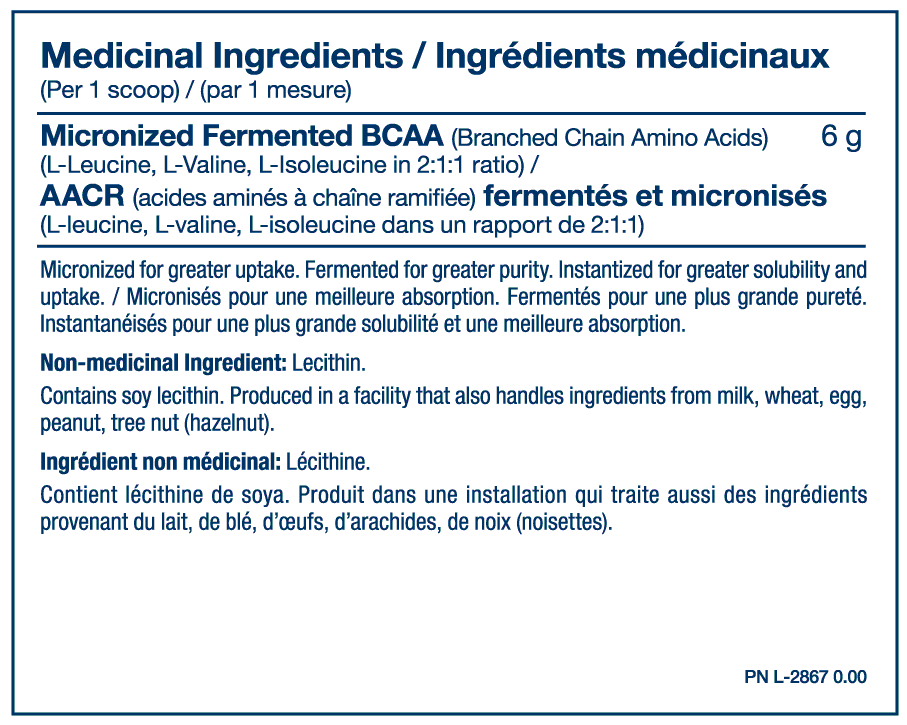 .