REDCON1 Breach + Energy 30 Serving

Breach+ Energy Amino Acids Powder - BCAA energy fills in those nutritional gaps to optimize your performance. Our BCAA energy powder has leucine amino acid to help prevent the breakdown of muscle tissue throughout the day.

Ingredients With Scientific Support - L-leucine, valine, and isoleucine make up the amino acid complex in this BCAA energy powder. Branched chain amino acids play a critical role in repair post-workout.

175mg Green Coffee Caffeine - Reach for Breach+ Energy workout supplements when you're in need of focus, energy, and recovery. With 6g of BCAA amino acids and 175mg of natural caffeine sources, Breach+ Energy will provide you with the fuel you need to kickstart your recovery process and a boost of energy to keep you going.




Premium Formulated BCAA Supplements - REDCON1 creates only premium formulated amino acids supplements with transparent supplement labels that are backed by science, and packed with great ingredients such as branched chain amino acids, l-leucine, and green caffeine.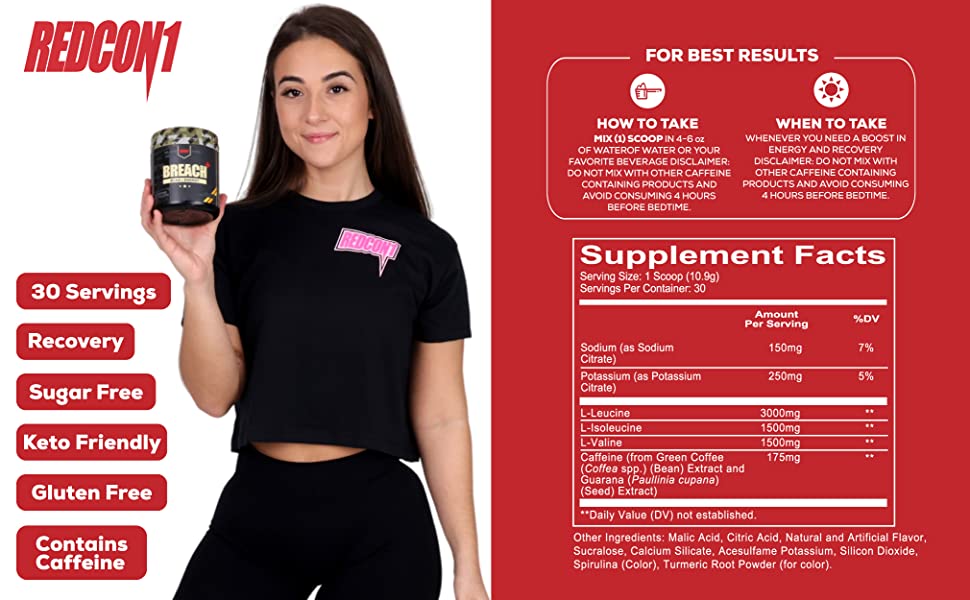 SUGGESTED USE
We make our amino acid energy powder formula easy and enjoyable to ingest. You can mix our BCAAs amino acid powder with 4-6 ounces of water or favorite beverage. Take whenever you need a boost in energy and recovery.