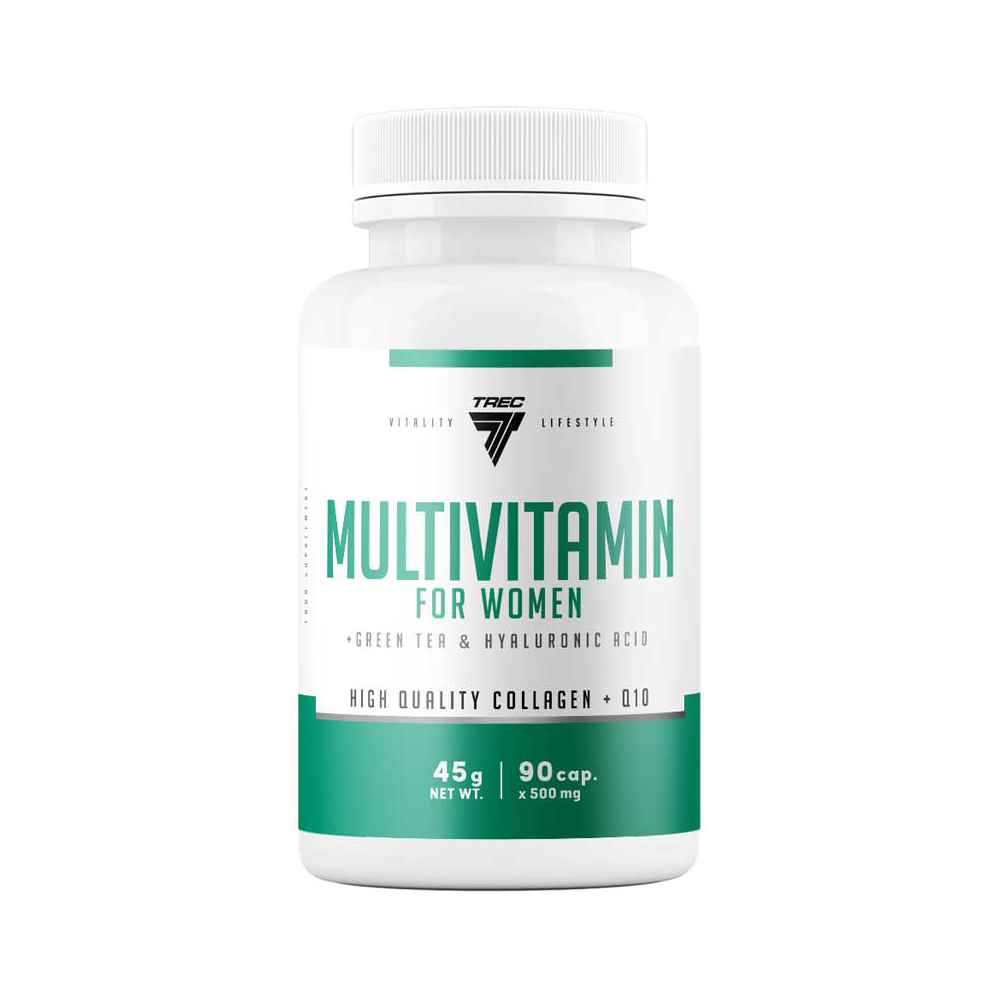 TREC MULTIVITAMIN FOR WOMEN - 90 Caps
Multivitamin for Women is a complex of vitamins and ingredients designed with women in mind. Multivitamin for Women includes vitamins C and E, which fight free radicals, believed to be involved in the aetiology of many diseases and the aging process. Vitamin A, niacin, pantothenic acid contained in the product have a positive effect on the condition of the skin and hair, which are the showcase of a woman's health and beauty. Vitamins B1, B2, B6 support the correct metabolism of nutrients, which determines metabolism. Multivitamin for Women could not go without folic acid, which should be important for every woman. It is folic acid together with vitamin B12 that take care of a woman's cardiovascular system and heart, which are overburdened with duties and everyday stress. Multivitamin for Women also include ingredients that support the immune system, including vitamin D.
Multivitamin for Women is not only a complex of carefully selected vitamins for women, but also additional ingredients for health and metabolism: collagen, green tea extract, CLA, l-carnitine, hyaluronic acid and coenzyme Q10. Green teaextract, being a rich source of polyphenols, together withl-carnitine will intensify the energy metabolism involvingfat, which will help in maintaining a slim figure. CLA will helpin the fight against the hated yo-yo effect and will also takecare of the skin's appearance. Collagen in the form of highly-absorbable hydrolysate Solugel®, and hyaluronic acid willsupport women's joints, but also help in skin regeneration.Coenzyme Q10 will also strengthen the protective shield ofthe female body against destructive free radicals.
Who do we especially recommend this product for?
When designing Multivitamin for Women, we knew that today's busy women need support that is not limited to basic vitamins, which are often missing from their daily diets. Today's women deserve comprehensive support that also helps them take care of their appearance and figure – and that's exactly what Multivitamin for Women provides
One serving of the product - 1 capsule - drink it downapprox. 300 ml of water. Use twice a day, preferably with a meal. Do not use for more than 3 months.
MULTIVITAMIN FOR WOMEN INGREDIENTS
COMPLEX FOR WOMEN [SOLUGEL® type I collagen hydrolyzate; L-carnitine tartrate; calcium salt of conjugated linoleic acid [80% CLA]; green tea extract ( Camellia sinensis ) [55% EGCG]; sodium hyaluronate; coenzyme Q10]; capsule shell [(gelatin) B / (glazing agent - hydroxypropyl methylcellulose) C ]; MULTIVITAMIN COMPLEX[vitamin C (L-ascorbic acid); maltodextrin; niacin (nicotinamide); vitamin E (DL-alpha-tocopheryl acetate); pantothenic acid (calcium D-pantothenate); vitamin B6 (pyridoxine hydrochloride); riboflavin; thiamine (thiamine mononitrate); vitamin A (retinyl acetate); folic acid (pteroylmonoglutamic acid); biotin (D-biotin); vitamin D (cholecalciferol); vitamin B12 (cyanocobalamin)]; anti-caking agent (magnesium salts of fatty acids). B,C See symbol after batch number.