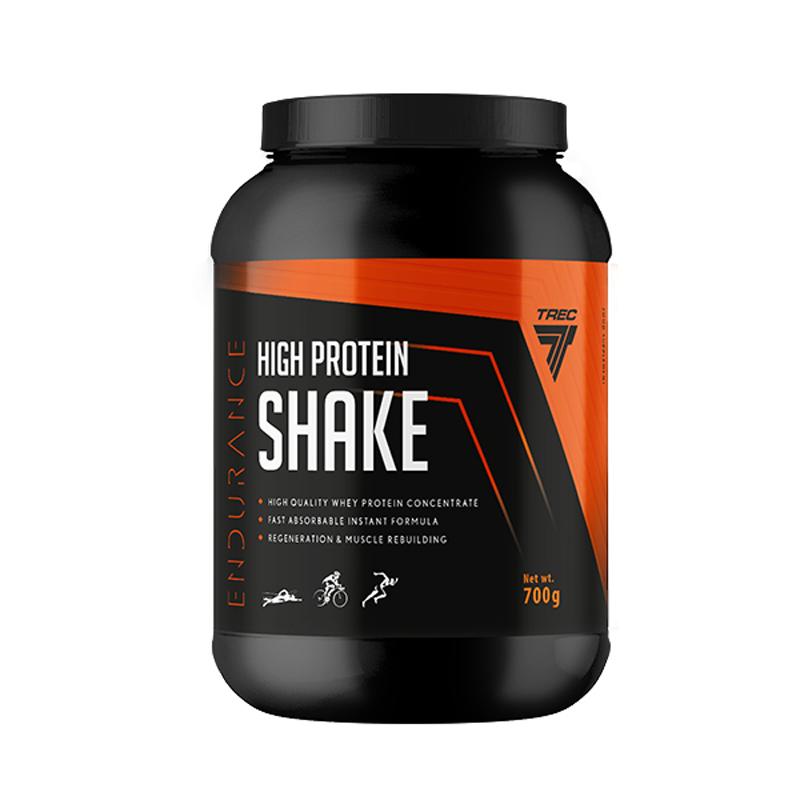 TREC ENDURANCE HIGH PROTEIN SHAKE
High Protein Shake is a tasty supplement rich in protein and with a minimum carbohydrate and fat content. High Protein Shake perfectly supplements the protein in the daily diet of people who are physically active and thus have an increased demand for this particular nutrient. The product contains only a concentrate of natural whey protein (WPC), included in the amino acid profile of milk. Whey protein is a complete protein, as it contains all of the essential amino acids, which makes it highly absorbable. The product helps to supplement the diet with protein that is necessary for the growth and maintenance of muscle mass during post-workout recovery. The high solubility and fast digestibility of High Protein Shake enables the immediate delivery of protein and amino acids to recovering muscles.
Who do we especially recommend this product for?
People who exercise regularly, with an increased demand for protein, especially when they are unable to supplement this nutrient with a regular diet, as well as those on imbalanced, elimination or low protein diets.
PORTIONING

Dissolve a single portion of the product - 30 g (1.5 scoops) in 200 ml of water or milk, using a shaker or mixer. Use 2 servings a day.

On training days: 1st serving in the morning after waking up, 2nd serving up to 1.5 hours. after training or before bedtime.

On non-training days: 1st serving in the morning after waking up, 2nd serving between meals or before bedtime.
INGREDIENTS HIGH PROTEIN SHAKE ENDURANCE
Whey protein concentrate (from milk )(93%); cocoa powder 1 ;aromas;thickener (sodium carboxymethyl cellulose); salt 1; color (ammonia caramel 2 ); sweetener (sucralose); color (beta-carotene 3.4 ). Applies to products with flavors: 1 double chocolate, 2 condensed milk,