BOOGIEWHEY
Boogie Whey is high BV whey proteins-fortified milk. Proper protein intake is a beneficial nutrient especially for people who exercise as it accelerates post-workout recovery and boosts muscle growth and increase muscle mass. Boogie Whey is a blend of highly digestible bodybuilding proteins combined with amino acids and creatine. Boogie Whey contains arginine and citrulline, which give muscle pump effect, and creatine, which enhances performance capacity. Boogie Whey formula also includes ornithine, which assists in proper metabolism of protein, especially in diets rich in this nutrient.
23g Protein per serving.

1g of Creatine

Uniique formula with added ornithine, arginine and citrulline

Contains a sweetener (sucralose)

Enriched with vitamins D and B6 and zinc, which help in the proper functioning of the immune system




It only contains 0.8 g of sugar per serving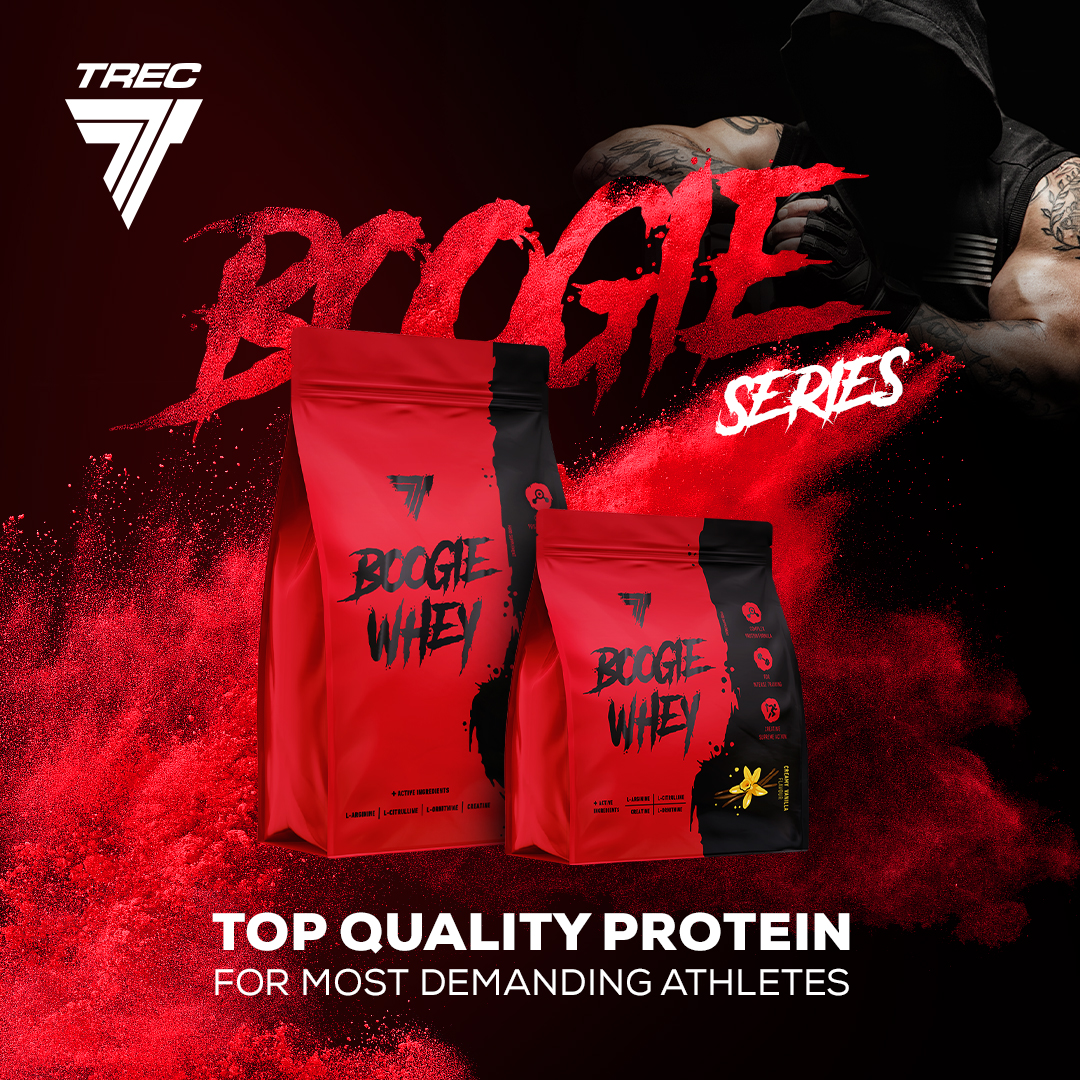 Added Creatine Monohydrate
Creatine is one of the most widely researched supplements. There are many types of creatine supplements available today which help to support your exercise performance so that you can continue to train at an optimum level for the entire duration of your workout, by slowing down the depletion of creatine stores.
Added L-arginine and L-citruline
Packed with L-arginine and L-citrulline , Trec Boogiewhey will help take your training to the next level — in the gym, on the track, or on the pitch.
These amino acid are essential to the body's production of nitric oxide. Nitric oxide increases blood flow, letting more oxygen into your muscles by helping blood vessels relax and widen. This sends more nutrients into the muscles to produce energy that fuels workouts and reduces fatigue.
PORTIONING OF BOOGIEWHEY
On workout days: 1st serving in the morning after getting up, 2nd serving for 1.5 hours. after training and the 3rd serving at bedtime.
On non-training days: 1st serving in the morning after getting up, 2nd serving between meals and 3rd serving at bedtime.
***** Recommended daily portion is 90 g.
WARNINGS
Do not exceed the recommended daily dose. The product cannot be used as a substitute for a varied diet. The preparation is not intended for children, pregnant and lactating women. A balanced diet and a healthy lifestyle are important.